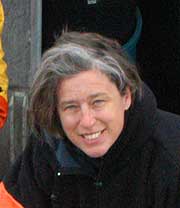 Jan Straley
Co-PI: University of Alaska Southeast Sitka Campus
Ms. Straley has been an Assistant Professor at University of Alaska Southeast (UAS) since 1999, and an independent marine biologist studying humpback whales and other large cetaceans in southeastern Alaska since 1979. She holds an MS from the University of Alaska Fairbanks in Biological Oceanography and has held federal research contracts and published journal articles focusing on population dynamics, feeding ecology, and social structure of large whales. Ms. Straley is one of the co-founders of SEASWAP, first funded in 2003, and is responsible for project oversight and coordinating the field logistics between researchers and the fishery.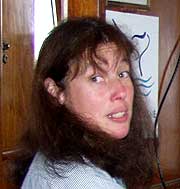 Victoria (Tory) O'Connell
Co-PI, Sitka Sound Science Center 
Victoria O'Connell is the Research Director at the SSSC. She received her B.S. in Fisheries from the University of Washington in 1981. O'Connell, along with Straley, is a founding member of SEASWAP, then working  as the Groundfish Project Leader for the Southeast Region, Alaska Department of Fish and Game Commercial Fisheries Division.  She was responsible for research and management of southeast Alaska commercial groundfish fisheries including longline and pot fisheries for sablefish, longline fisheries for rockfish, and jig and troll fisheries for lingcod. For over 30 years she has worked directly with  fishermen, agency, personnel, and other scientists to develop and implement commercial groundfish port sampling programs, groundfish resource assessment surveys, studies of life histories of groundfish species, onboard observer programs, management plans, and evaluation of marine protected areas. O'Connell has also conducted numerous in-situ surveys using SCUBA, occupied submersibles and multibeam and sidescan sonar mapping and has published habitat-based rockfish stock assessments using line transect methods conducted from a submersible. Her current research focuses on marine mammal and fishery interactions.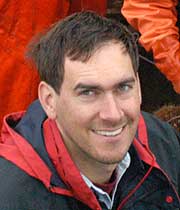 Aaron Thode
Co-PI: Marine Physical Laboratory, Scripps Institution of Oceanography
Dr. Thode is an Assistant Professor at Scripps Institution of Oceanography (SIO), with research specialties in marine mammal acoustics, ocean acoustic propagation, advanced acoustic tracking methods, and geoacoustic inversion techniques. Dr. Thode earned his PhD at Scripps in 1999, with his thesis work focusing on applying advanced acoustic tracking methods to blue whales off the California coast. From 2000- present he has helped run the towed acoustic arrays in the Sperm Whale Seismic Study (SWSS) in the Gulf of Mexico, where he has developed new methods for tracking sperm whales in three-dimensions. In 2002 Thode was awarded the Office of Naval Research Entry-Level Faculty Award to build and demonstrate acoustic equipment that could be used to study marine mammals in isolated and hostile environments.  The Marine Mammals program at ONR provided additional support for constructing this equipment. Dr. Thode has been working with SEASWAP since 2005, and has had multiple graduate students assisting with the project as part of their research. His work with SEASWAP has focused on acoustic cues sperm whales use to locate longline fishing activity, and signals used by whales while interacting with fishing gear. This acoustic focus has been used in testing potential countermeasures to deter whales from fishing gear in the Gulf of Alaska and Bering Sea. Additionally, he uses vertical arrayed autonomous recording devices to study and track whales acoustically in their Gulf of Alaska habitat.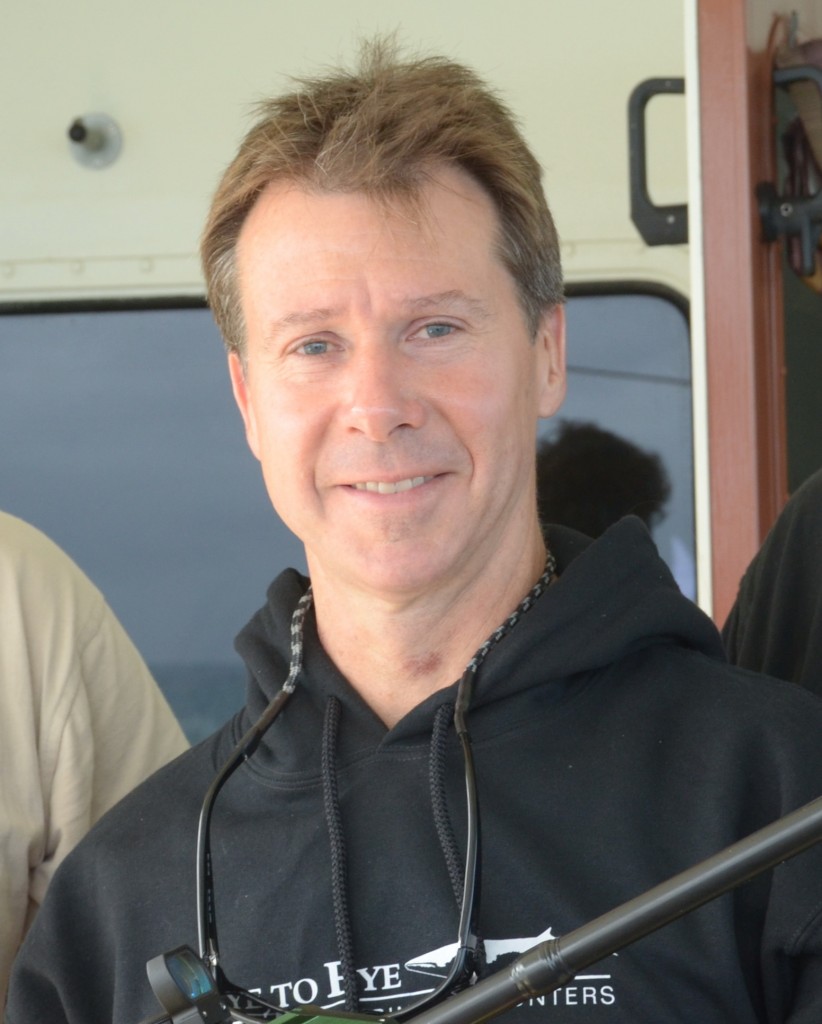 Russ Andrews
Co-PI: Alaska SeaLife Center & University of Alaska Fairbanks
Dr. Russ Andrews is a marine biologist based in Seward, Alaska. He obtained his Ph.D. in physiological zoology from the University of British Columbia, where he built data loggers to record the heart rate, body temperature, and diving behavior of elephant seals to learn how they could hold their breath for up to 2 hours. Russ is especially interested in studying how marine mammals, seabirds and sea turtles adapt to changes in their environment. He has been lucky enough to study animals around the world, and is a "bi-polar" biologist (although he is rather quirky, this term implies nothing about his mental state, but means that he has worked with both polar environments, the Arctic and Antarctic).  In 2002 he moved to Alaska to take up his current position with the UAF School of Fisheries and Ocean Sciences and the Alaska SeaLife Center. His work with SEASWAP involves using satellite tags to track sperm whales in near real-time, which allows researchers to learn more about their movement patterns and habitat use, while also allowing fishermen to track whale movements and avoid fishing near whales.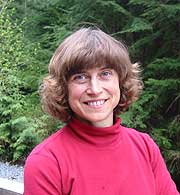 Linda Behnken
Collaborating Investigator, Alaska Longline Fishermen's Association
Ms. Behnken has a Masters in Environmental Science from Yale University.  She has been a commercial fisherman in southeastern Alaska since 1981, has served as the Executive Director of the Alaska Longline Fishermen's Association (ALFA) since 1991. She was a member of the North Pacific Fishery Management Council from 1992-2001.  She participates in project design, is responsible for ALFA coordination with fishing fleet participating in project, oversees logbook data collection and organization and serves as a co-author on behavior and deterrence report.
Dan Falvey
Collaborating Investigator, Alaska Longline Fishermen's Association
Dan Falvey is a longtime Alaskan commercial fishermen who has serves on the Alaska Longline Fishermen's Association Board. He has been working with SEASWAP from the fisheries side of the project, helping with gear modifications, project oversight, involving the fleet, and facilitating projects.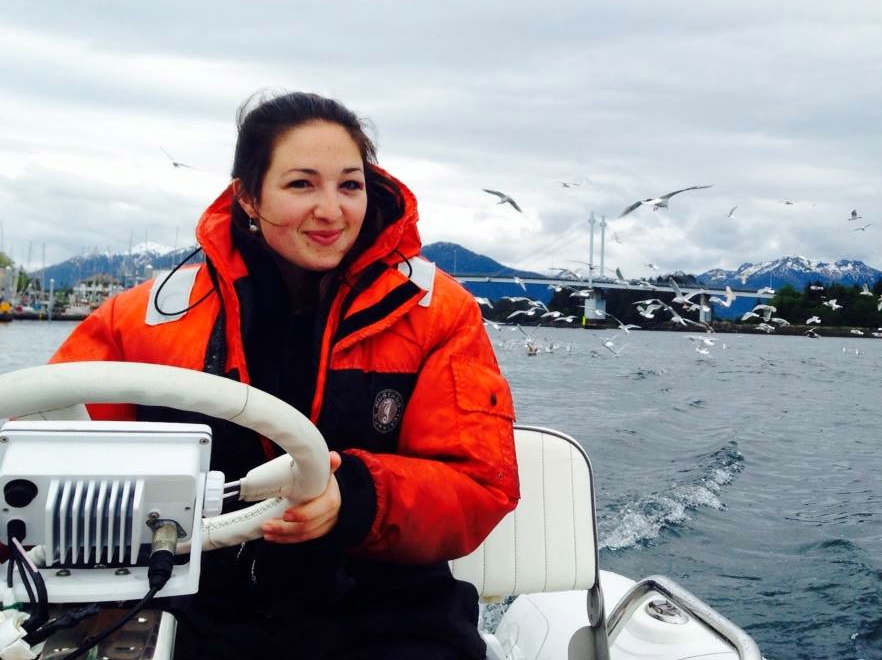 Lauren Wild
Lauren was born and raised in Sitka, Alaska, and obtained a B.A. in International and Global Studies from Brandeis University in Boston, Massachusetts. She was hired as a research assistant for SEASWAP in 2009 where she studied under Jan Straley and Dr. Aaron Thode to become a research biologist and acoustic technician for the project. In 2013 she received her master's degree in Marine Mammal Science from the University of St. Andrews in Scotland, where her thesis focused on a sperm whale acoustic signal called a "Clang" from SEASWAPs recording library in the Gulf of Alaska. She returned to Sitka as a research biologist for the Sitka Sound Science Center on the SEASWAP project. In 2015 Ms. Wild returned to graduate school and is currently a PhD student at the University of Alaska Fairbanks' School of Fisheries and Ocean Sciences, where she is studying sperm whale movement, habitat preference, and diet in the Gulf of Alaska as part of SEASWAP.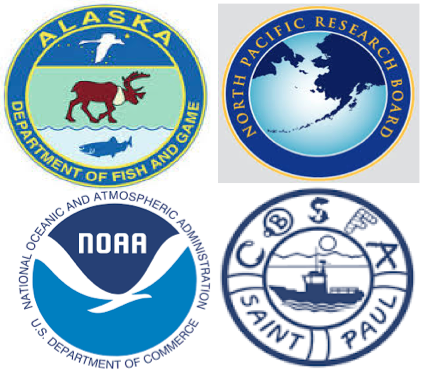 North Pacific Research Board

NOAA National Marine Fisheries Service

NOAA Bycatch Reduction Program

NOAA Saltonstall-Kennedy Program

Central Bering Sea Fishermen's Association

Oak Foundation

Office of Naval Research

International Association of Oil & Gas Producers E&P Sound and Marine Life Joint Industry Program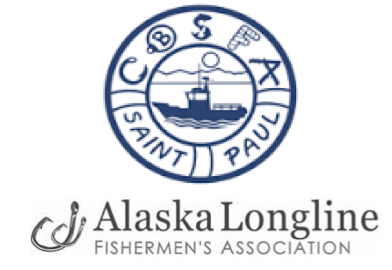 Alaska Longline Fishermen's Association, Sitka, AK

Central Bering Sea Fishermen's Association, Anchorage, AK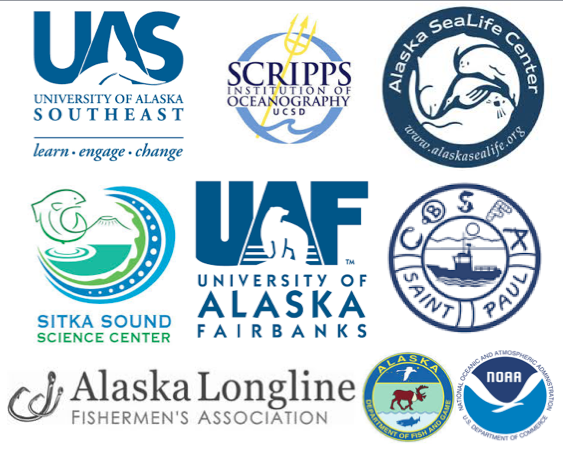 University of Alaska Southeast

Scripps Institution of Oceanography

University of Alaska Fairbanks

Alaska SeaLife Center

Sitka Sound Science Center

Central Bering Sea Fishermen's Association

Southwest Fisheries Science Center

NOAA National Marine Fisheries Service

Alaska Department of Fish & Game

Cascadia Research Collective

Alaska Whale Foundation
We would like to acknowledge these individuals and organizations for the help they have provided to this research program:
Sitka Longline Fleet
Delphine Mathias
Chris Lunsford, NOAA
Dana Hanselman, NOAA
Kamala Carroll, ADFG
Kristen Green, ADFG
Mike Vaughn, ADFG
John Calambokidis
Greg Schorr
Erin Falcone
Sarah Mesnick (SWFSC)
Andy Szabo
Katy Pendell
Jennifer Cedarleaf (UAS & ALFA)
Madison Kosma (SSSC)
Neve Baker
National Marine Mammal Laboratory
NMFS Observer Program Pilot Study
Scott Hill NOAA
Mike Sigler NMFS
Steve Weissberg
Larry Trani
John Straley
Cleo Brylinsky (ADF&G)
Nellie Warner
Heather Riley
Photos provided by:
Flip Nicklin, Jan Straley, Greg Schorr, John Calambokidis, Dick Curran, Dan Falvey, Greg Beam, Gary Egerton, Frank Cipriano, Tory O'Connell, Eric Coonradt, Heather Riley, Nellie Warner, Jerome Maison, Josh Arnold, Roy Allen, and Pat Malecha.